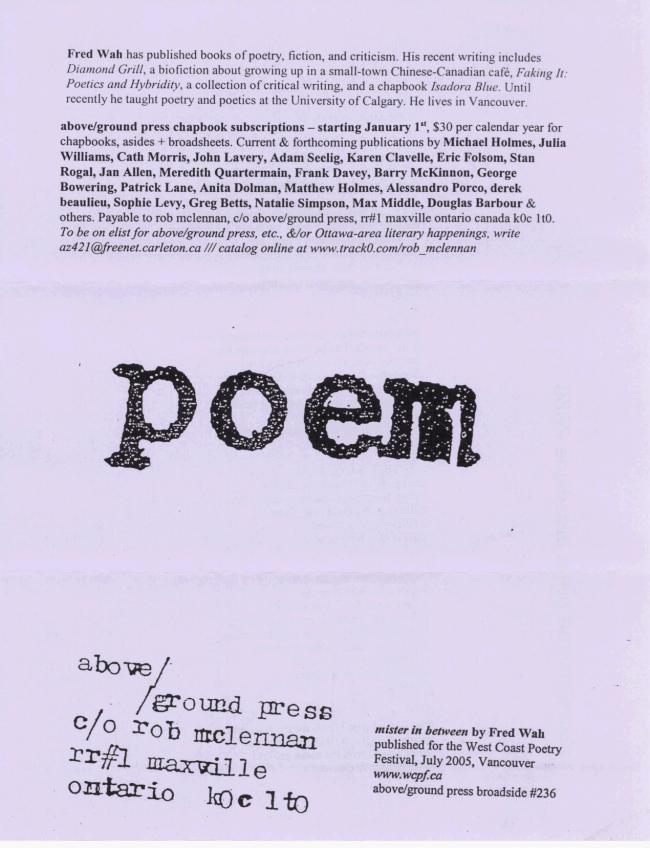 Basic Information
The Nitty Gritty

Title page

mister in between | Fred Wah

Collation

[1] biography, copyright, and colophon; [2] text

Colophon

above/ground press chapbook subscriptions - starting January 1'\ $30 per calendar year for chapbooks, asides+ broadsheets. Current & forthcoming publications by Michael Holmes, Julia Williams, Cath Morris, John Lavery, Adam Seelig, Karen Clavelle, Eric Folsom, Stan Rogal, Jan Allen, Meredith Quartermain, Frank Davey, Barry McKinnon, George Bowering, Patrick Lane, Anita Dolman, Matthew Holmes, Alessandro Porco, derek beaulieu, Sophie Levy, Greg Betts, Natalie Simpson, Max Middle, Douglas Barbour & others. Payable to rob mclennan, c/o above/ground press, rr#l maxville ontario canada k0c 1t0. To be on e/ist for above/ground press, etc., &/or Ottawa-area literary happenings, write az421@freenet. carleton. ca ||| catalog online at www.track0.com/rob_mclennan

MLA Citation

Wah, Fred. Mister in between. Ottawa: above/ground press, 2005. Print.