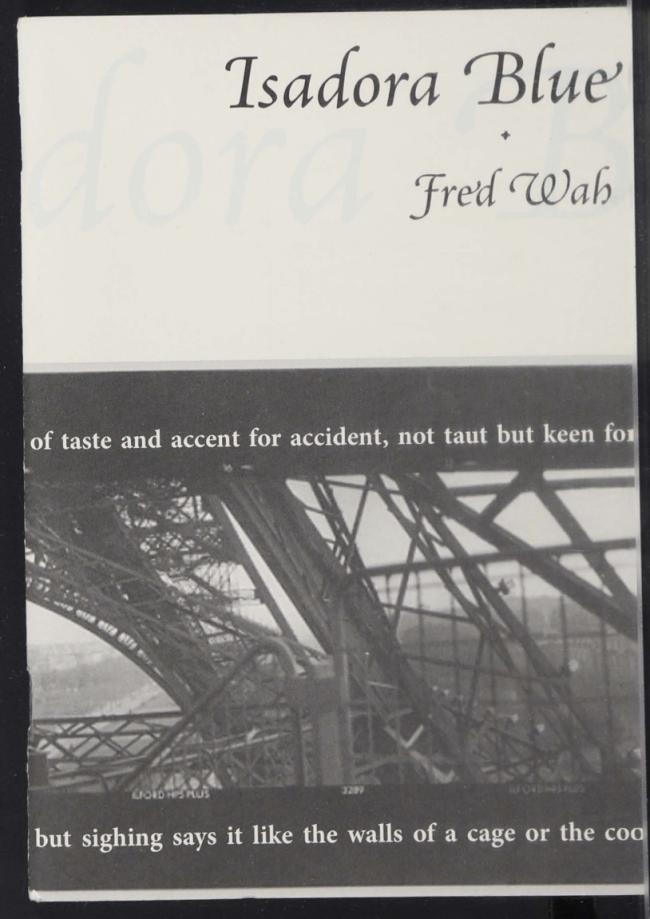 Basic Information
The Nitty Gritty

Number of pages

Pp. [1-36]

Collation

[1] title page [2] blank [3] Isadora blue | fred wah [4] copyright page [5] Contents [6] untitled poem [7] forwords [sic] or [8-9] Five Peelings Waiting [10] Translated Itching Poem [11] Walking Poem [12-13] mister in between [14-16] The Marlin Seafood Grill [17-18] Double Dutch [19-20] Juan José he [21-22] I need to apply Canclini here [23] Logging In [24-30] On Second Though [31] is a door wood [32] I was walking [33] blank [34] Acknowledgements [35] About the Author [36] Colophon

Colophon

Published in an edition of 200 chapbooks by LA MANO IZQUIERDA IMPRESORA, in Victoria, Canada during the snowfalls of January, 2005.

MLA Citation

Wah, Fred. Isadora Blue. Victoria: La Mano Izquierda Impresora, 2005. Print.